Calling
ALL Alumni!
Interested Players, Click Here!
Faith In Action has partnered with Dreamchasers Basketball to launch the area's first-ever Bay Rivers District Alumni All-Stars Basketball Tournament.
This fun-filled weekend includes something for everyone!  Some of your most memorable standout stars are waiting for you to join them on the court. If you, or someone you know, played at one of our Bay Rivers District schools during the years of 1978-2018, we want to hear from YOU! Only 64 players will be chosen, so click the link provided below to submit your interest form. Please email us at alumniallstars@wfia.org with any questions.

As a sponsor or exhibitor, you will be contributing to an event that brings fans, families and friends together for two incredible days of basketball and entertainment!!! For more information on how to sign on as a sponsor or exhibitor, email awashington@wfia.org!
---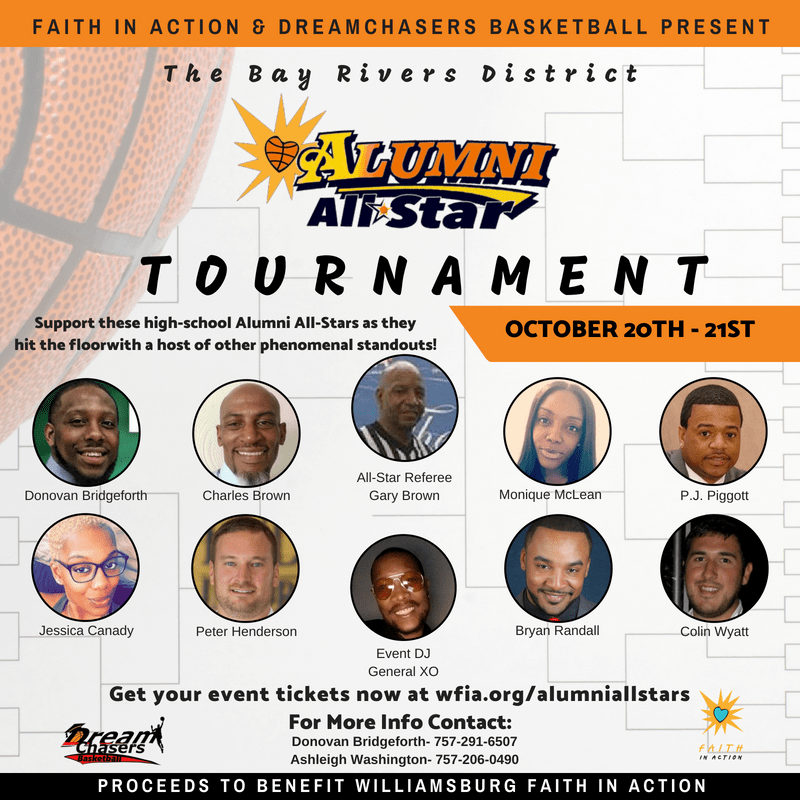 Friday, October 19th
Beginning at 5:00 p.m.
Revolution Golf & Grill, 1430 High Street, Williamsburg, VA 23188
Join us as we kick-off an amazing weekend with a happy hour at the Revolution Golf & Grille. Have a cocktail or two, enjoy a delicious assortment of appetizers, meet and greet our all-stars, reconnect with fellow alumni, and get your golf on… virtual golfing that is. You must be 21 or older to participate!
Join Us For Happy Hour!
Saturday, October 20th
First tip-off at 11:00 a.m.
Lafayette High School, 4460 Longhill Road, Williamsburg, VA 23188
Gear up and let the games begin! Come out and show your school spirit while cheering on your favorite all-stars as they hit the floor once again!
Get Event Tickets Now!
Sunday, October 21st
4:00 p.m. – 7:00 p.m.
Lafayette High School, 4460 Longhill Road, Williamsburg, VA 23188
The games continue!  Which of your favorite all-star teams will take home the championship title? It is sure to be a showdown you don't want to miss!
Secure Your Seat Today!