Services
---
WFIA provides assistance with everyday tasks of life to seniors 60 and older, and chronically ill and disabled adults living in Williamsburg, James City County and the Bruton District of York County (Greater Williamsburg Area). Services include, but are not limited to: transportation, caregiver support, visiting, well-check calls, grocery shopping, assistance with chores, and yard work. For ALL new care receivers, we require an in-home intake visit prior to any services being provided.
Services offered to adults under the age of 60 will be determined at the time of assessment on a case by case basis.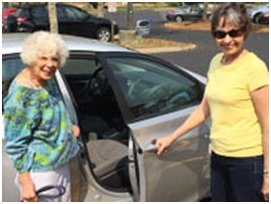 Volunteers provide transportation to doctor or dental appointments, grocery shopping, beauty salon or barber shop, library, post office, church, and errands. In many areas of Greater Williamsburg, public transportation is not consistently available. Even where it is available, it often is too difficult for elders to withstand or maneuver. Without transportation, older adults lose their independence and are denied access to basic living services such as getting to medical appointments, buying groceries, or accessing social services.