Gifts of Real Estate
---
A gift of real estate to Faith In Action is a unique way leave a legacy. It is also a convenient way for you to enjoy a charitable deduction based on the current fair market value of your property and to reduce the size and complexity of your estate.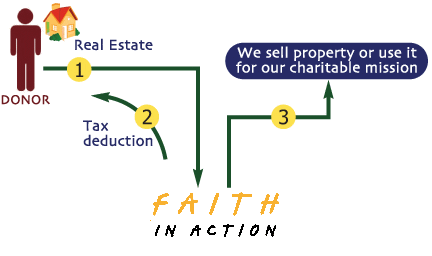 Benefits of giving real estate
Federal law has special incentives in place to encourage certain forms of private philanthropy, especially gifts of real estate. Giving real estate can result in significant benefits including:
Reduced income and estate taxes
Avoidance of capital gains taxes
Financial security for loved ones
Increased lifetime income
Continued use of the contributed property during your life
Because a gift of real estate will usually be sold as soon as practicable after it is gifted, the real estate must be free of debt and must be readily marketable.
Options for giving real estate
Not only can real estate be used to make outright gifts, it can also be used to make future gifts to Faith In Action. For example, should you wish to give a remainder interest in a piece of real estate now but still desire to live in or continue to vacation in the property for the rest of your life, you may do so. This is known as a retained life estate.
On the other hand, if you have a need for current income, you may wish to use a piece of real estate that you no longer wish to use to fund a trust which will provide valuable financial support to you and your family for years to come.
Making a gift of real estate
Gifts of real estate can be extremely satisfying, but they require careful planning. Any gift of real estate must be reviewed and approved through Faith In Action's real estate acceptance policy, which require a donor to provide detailed and specific information about the property. The Development Office will work with you to facilitate this process.
Contact Us
If you have any questions about gifts of real estate, please Contact Us.  Call 757-258-5890 or email bminett@wfia.org.  We would be happy to assist you and answer your questions.